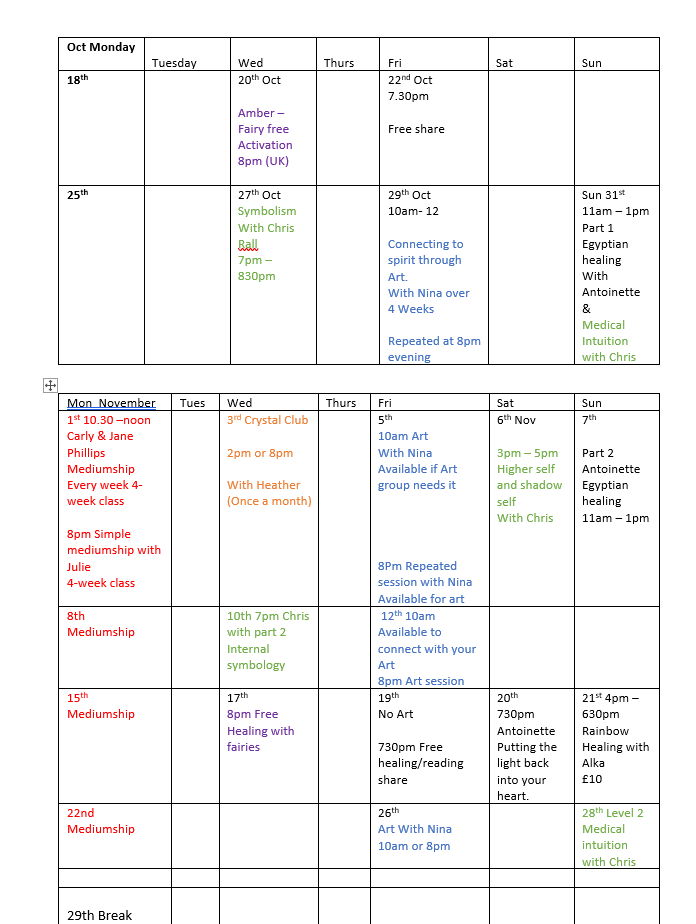 We have a number of workshops and new teachers starting. All supported by me in Late oct through to Nov.
I am hoping that with some support they will go on to feel confident to hold their own workshops in the future, if they are not already doing so.
We have Chris Rall, Medical Intuitive, email Pcrall13@gmail.com. He has workshops on medical intuition, working with higher self & shadow self, and your inner symbolism.
We have Antoinette Rall (antoinetteRall@yahoo.com) introducing us all to some Egyptian healing and some work on the heart.
We have Jane Phillips, a medium all her life, coming to share the space on monday mornings through November.
Julie Drybrugh, another working medium holding the space for the evenings on mondays in Nov at 8pm.
Nina Spolar, an artist, is holding a creative space on fridays for us all.
Amber Benjamin is sharing her love with the fairy realm.
Alka Sethi is working with the rainbow healing with the group.
Heather Taylor is taking a monthly crystal club on the 1st wed of every month. 2pm and 8pm.
So lots and lots going on, come along, all reasonable prices, some are free initially, so you can feel our vibe :)
Get in touch to know more,
carly